PRINT
POSTERS
11" X 17" ULTRA THICK CARD STOCK (1 POSTER) - $2
11" X 17" REGULAR STOCK (1 POSTER) - $1
11" X 17' ULTRA THICK CARD STOCK (DOUBLE SIDED) $3
FLYERS
100 - FULL COLOR (BLACK AND WHITE) - ONE SIDED 4" X 6" - $30 ($20)
100 - FULL COLOR (BLACK AND WHITE) - DOUBLE SIDED 4" X 6" - $50 ($35)
100 - FULL COLOR - ONE SIDED 8.5" X 11" - $50
100 - FULL COLOR - DOUBLE SIDED 8.5" X 11" - $70
BROCHURES
100 Bi-Fold - $120
100 Tri-fold - $130
BUSINESS CARDS:
250 - $45
500 - $50
1000 - $70
*REQUIRES A TWO WEEK TURNAROUND
PRINTSHOP can also print custom sizes. A custom cutting fee starting at 25$ will be added to all orders that request custom paper sizes.
WE WILL PHOTOGRAPH YOUR PAINTINGS AND CONVERT TO 11 X 17 POSTERS.
For artists wanting to reproduce art work onto 11"X17" posters, PRODUCE® PRINTSHOP charges a $5 photography fee for first painting and $2.50 per additional photo of painting or artwork.
Small Scale Artwork Scanning - $1/per scan
SCREEN PRINTING
We offer screen printing. If you already have a design you can email it to us for processing. If you DON'T already have a design, we have an in-house creative team that can create what you need or convert your design into a format suitable for screen printing.
info@producegoods.com
We'd love to hear more about your next print project, we offer free advice, just give us a shout if you have a custom order or questions.
BENJAMIN'S BUTTONS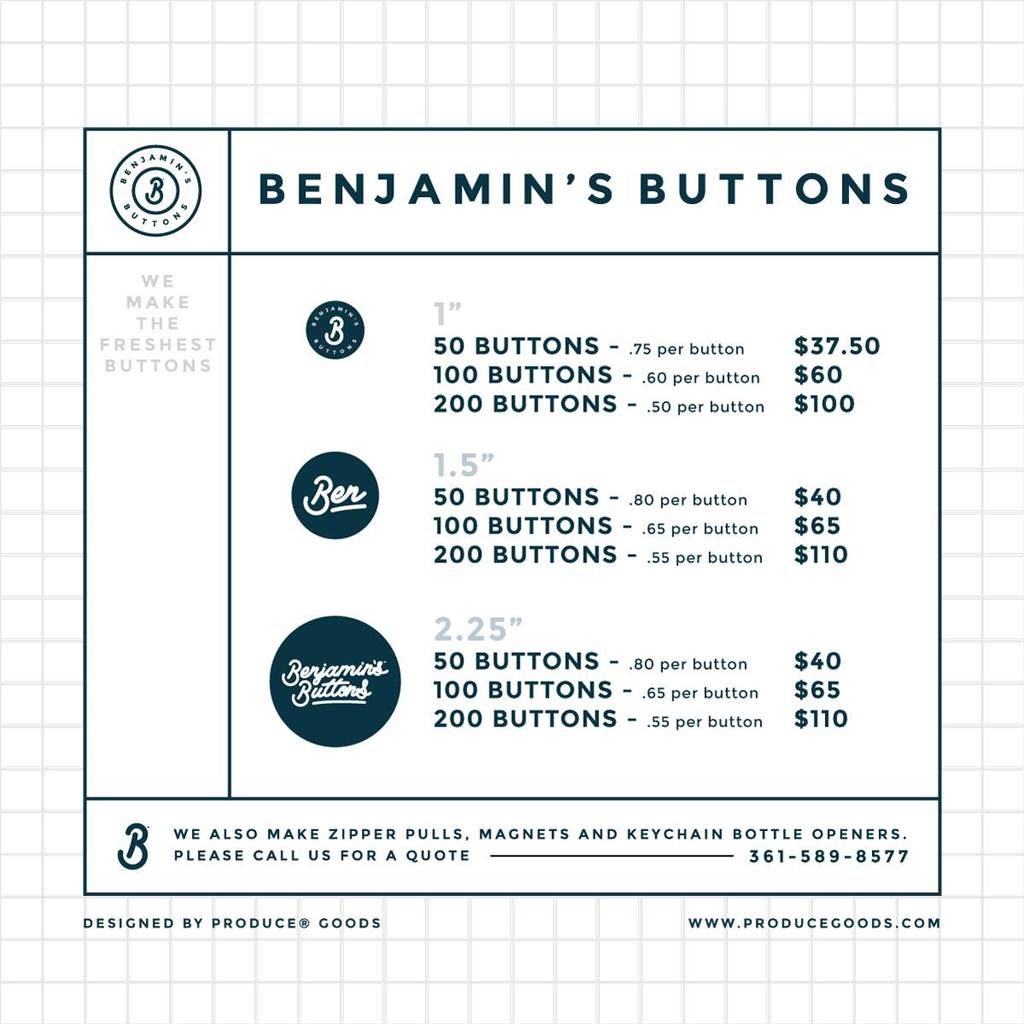 *Some services are not printed in-house and are printed by 3rd party printing services.